Export results:
Author
Title
[
Type

]
Year
Journal Article
"Horizontes y Tendencias de Seguridad en Internet",
Novática
, vol. 145, pp. 65-71, 2000.


More..
Abstract
  El comercio electrónico está llamado a ser el fenómeno de mayor importancia en el futuro de Internet. Entre sus aplicaciones se encuentran las compras en línea, la banca electrónica, la tele-educación, los casinos virtuales, los servicios de pago por visión y vídeo bajo demanda, etc. Desde el punto de vista de la Seguridad, estas aplicaciones presentan una serie de nuevos requisitos que van a imponer un gran esfuerzo investigador a corto y medio plazo. En este artículo se presentan algunos de los más importantes, como la administración de la confianza, la utilización de pagos electrónicos, la necesidad de la protección de la propiedad intelectual, los servicios de protección de privacidad y anonimato, y la autonomía de código y la detección de fraudes, identificándose las áreas de investigación relacionadas.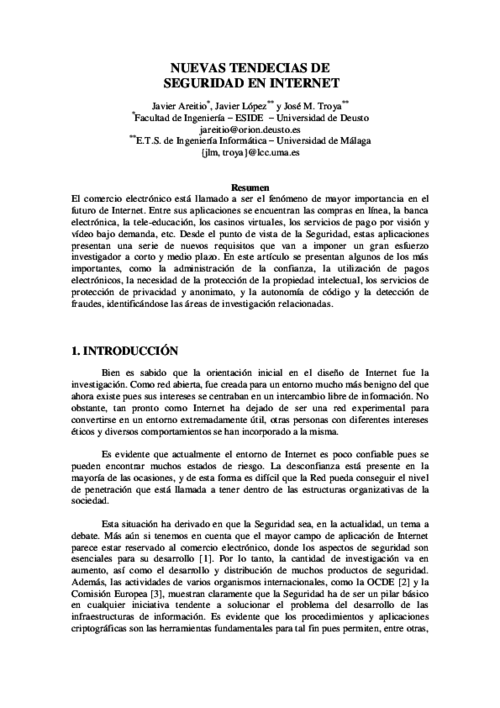 JavierAreitio2000.pdf (95.24 KB)
Book Chapter
"On the Hardware Implementation Efficiency of Cryptographic Primitives",
Wireless Sensor Network Security
,
J. Lopez
, and J. Zhou Eds., IOS Press, 2008.


More..
Abstract
Security has been proven a crucial factor in the provision of data services and especially in the computer-related environments. While wired and wireless networks come to all sectors of everyday life, security tries to satisfy the growing needs for confidentiality, integrity and non-repudiation. There are many instances of security primitives and each one of them has different requirements in terms of processing power, word size, etc. Therefore, it is important to review the functionality of the less resource-demanding encryption algorithms in order to analyze their theoretical suitability to the existent sensor node hardware. Still, the constraints inherent to the sensor nodes advise against the total dependence on software-based implementations, even more in the case of expensive primitives.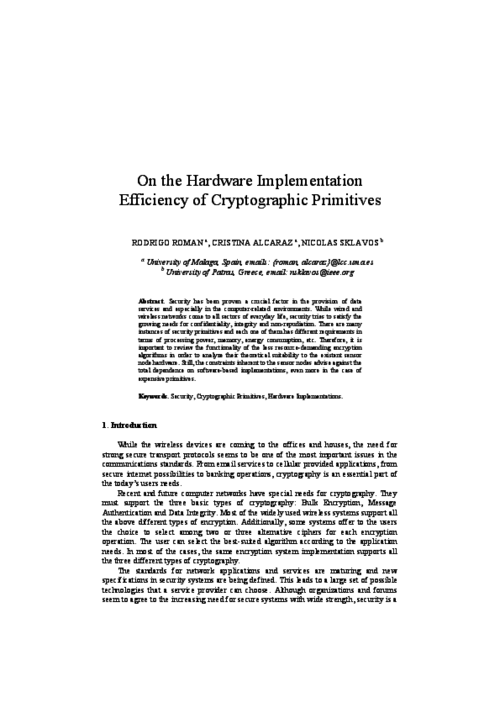 Roman2008.pdf (394.11 KB)