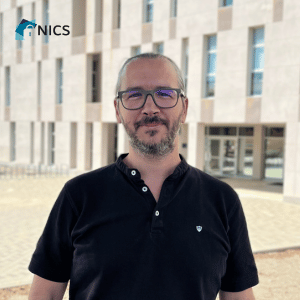 associate Professor
---
Edificio de Investigación Ada Byron
C/ Arquitecto Francisco Peñalosa, nº 18
Ampliación Campus de Teatinos. Universidad de Málaga
29071 Málaga (Spain)
Phone: +34 951 952 913  
E-mail: isaac@uma.es
CEO of Decentralized Security decentralizedsecurity.es
Current research
Secure Multipary Computation: Analisys of current SMPC protocols on specific scenarios with a focus on performance and security trade-offs.
Applied crypto for Connected Car and Blockchain scenarios: Analysis of current security problems ,and proposal of new solutions, in Blockchain and Connected Car scenarios, in particular with regard to Privacy, Authentication and Confidentiality.
Digital Identity: New requirements for interoperable identity scheme in the Future Internet, including sovering identity and blockchain solutions. Exploring the possiblities of wearable devices as identity enablers.
Authentication, Authorization and Delegation: Definition and implementation of privacy frienly autentication mechanisms.
Education
Ph.D. in Computer Science (with European Doctorate mention), University of Malaga (July 2008).
MSc. in Mathematics, University of Malaga (July 2002).
BSc. in Computer Science, UNED, Spain (August 2007).
Principal Investigator
Patents
Relevant publications
Courses and seminars
Private seminar on "Blockchain, Distributed Identity and software based key protection and encryption" sponsored by Idfy, May 2019.
European Intensive Programme on Information & Communication Systems Security (IPICS), September 2012.
Computer Science Paradigms – Esp. in Information Security. University of la Laguna, November 2012