Export results:
[
Author

]
Title
Type
Year
H
"An Intelligent and Adaptive Live Simulator: A new Concept for Cybersecurity Training",
9th Future Security Conference
, 2014.


More..
Abstract
The rapid rate of change in technology and the increasing sophistication of cyber attacks require any organization to have a continuous preparation. However, the resource and time intensive nature of cybersecurity education and training renders traditional approaches highly inefficient. Simulators have attracted the attention in the last years as a potential solution for cybersecurity training. However, in spite of the advances achieved, there is still an urgent need to address some open challenges. In this paper we present a novel simulator that solves some these challenges. First, we analyse the main properties that any cybersecurity training solution should comprise, and evaluate to what extent training simulators can meet them. Next, we introduce the functional architecture and innovative features of the simulator, of which a functional prototype has already been released. Finally, we demonstrate how these capabilities are put into practice in training courses already available in the simulator.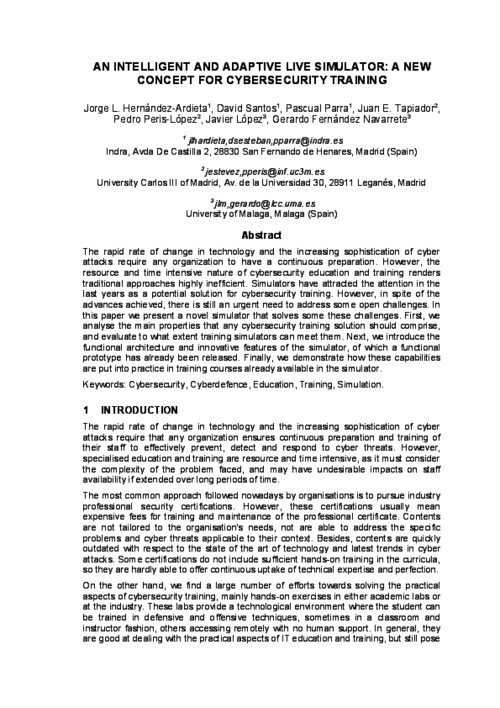 1637.pdf (1005.4 KB)
"Engineering Secure Future Internet Services and Systems- Current Research",
Lecture Notes in Computer Science, vol. 8431, no. Lect.Notes ComputerState-of-the-Art Surveys, Springer , 2014. More..

Abstract

This State-of-the-Art Survey contains a selection of papers representing state-of-the-art results in the engineering of secure software-based Future Internet services and systems, produced by the NESSoS project researchers. The engineering approach of the Network of Excellence NESSoS, funded by the European Commission, is based on the principle of addressing security concerns from the very beginning in all software development phases, thus contributing to reduce the amount of software vulnerabilities and enabling the systematic treatment of security needs through the engineering process. The 15 papers included in this volume deal with the main NESSoS research areas: security requirements for Future Internet services; creating secure service architectures and secure service design; supporting programming environments for secure and composable services; enabling security assurance and integrating former results in a risk-aware and cost-aware software life-cycle.