Export results:
Author
Title
[
Type

]
Year
Book Chapter
"Grid Security Architecture: Requirements, Fundamentals, Standards and Models",
Security in Distributed, Grid, Mobile, and Pervasive Computing
, Y.. Xiao Eds., Auerbach Publications, pp. 255-288, April, 2007.


More..
vivas2007.pdf (321.43 KB)
Conference Paper
"ICITPM: Integrity validation of software in iterative Continuous Integration through the use of Trusted Platform Module (TPM)",
1st Workshop on Dependability and Safety Emerging Cloud and Fog Systems (DeSECSyS) - Colocated with ESORICS, Guildford (United Kingdom). September 2020.
, A. Farao Eds., Springer, pp. 147–165, 2020.

"SealedGRID: A Secure Interconnection of Technologies for Smart Grid Applications",
14th International Conference on Critical Information Infrastructures Security (CRITIS 2019)
, vol. 11777, Springer, Cham, pp. 169-175, 12/2019.
DOI


More..
Abstract
In recent years, the Smart Grid has increasingly integrated cutting-edge technologies that generate several benefits for all the stakeholders involved, such as a more accurate billing system and enhanced Demand Response procedures. However, this modernization also brings with it diverse cyber security and privacy issues, which sets the necessity for developing a security platform specifically tailored to this scenario. In this paper, we present SealedGRID, which proposes a flexible architecture that provides security services at all levels by implementing Trusted Execution Environments on their devices, together with advanced authentication and authorization mechanisms, as well as privacy preserving techniques. These technologies are presented in depth and a final security analysis is conducted, which highlights the contributions of this project.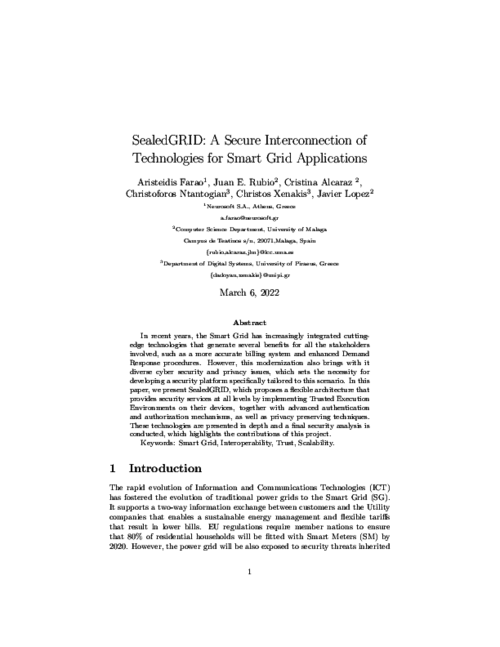 1815.pdf (380.55 KB)
Conference Proceedings
"Proceeding of the 3rd International Conference on Network and System Security (NSS 2009)",
3rd International Conference on Network and System Security (NSS 2009)
, IEEE Computer Sociaty, OCT 2009.

Journal Article
"P2ISE: Preserving Project Integrity in CI/CD Based on Secure Elements",
Information
, vol. 12, issue 9, no. 357, MDPI, 08/2021.


More..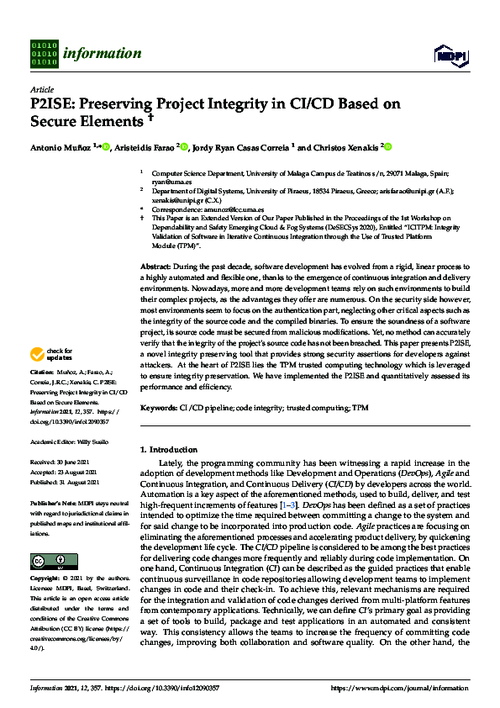 anto2021.pdf (1.59 MB)