Export results:
[
Author

]
Title
Type
Year
F
"Configuración de honeypots adaptativos para análisis de malware",
III Jornadas Nacionales de Investigación en Ciberseguridad (JNIC 2017)
, Servicio de Publicaciones de la URJC, pp. 91-98, 06/2017.



More..
Abstract
Este trabajo propone una arquitectura de despliegue de honeypots adaptativos, configurados dinámicamente a partir de los requisitos del malware que intenta infectar los servicios trampa. A diferencia de otros trabajos sobre honeypots adaptativos, los mecanismos de adaptabilidad aquí diseñados tomarán como base información de inteligencia sobre amenazas actuales, indicadores de compromiso (IOCs) conocidos, así como información de actividades sospechosas actualmente en estudio por los analistas. Este conocimiento será empleado para configurar honeypots de manera dinámica, permitiendo satisfacer los requisitos necesarios para que el malware pueda desplegar toda su operativa. 
1650.pdf (314.82 KB)
"Modeling Malware-driven Honeypots",
14th International Conference On Trust, Privacy & Security In Digital Business (TrustBus 2017)
, vol. 10442, Springer International Publishing, pp. 130-144, 08/2017.
DOI



More..
Abstract
In this paper we propose the Hogney architecture for the deployment of malware-driven honeypots. This new concept refers to honeypots that have been dynamically configured according to the environment expected by malware. The adaptation mechanism designed here is built on services that offer up-to-date and relevant intelligence information on current threats. Thus, the Hogney architecture takes advantage of recent Indicators Of Compromise (IOC) and information about suspicious activity currently being studied by analysts. The information gathered from these services is then used to adapt honeypots to fulfill malware requirements, inviting them to unleash their full strength.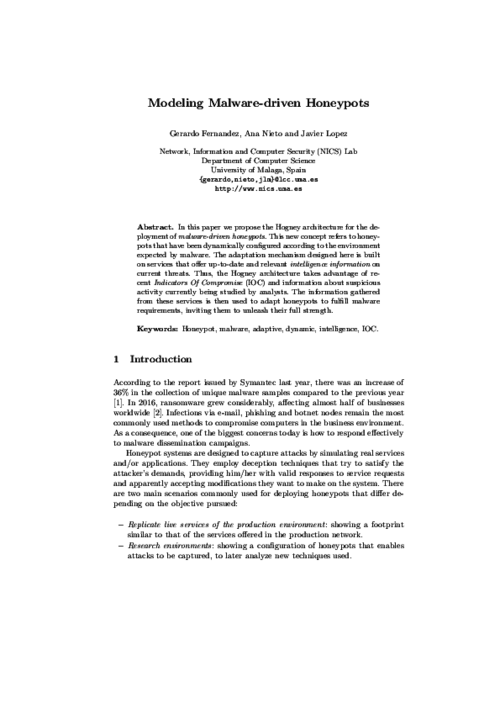 1656.pdf (406.21 KB)