Export results:
Author
Title
Type
[
Year

]
"An User Authentication Infrastructure for Extranet Applications",
IEEE International Carnahan Conference on Security Technology
, IEEE Press, pp. 354-362, October, 1999.


More..
Abstract
An Extranet is used to connect businesses with their suppliers, customers or other businesses that share common goals in a way that automates their administrative interactions using Internet technology. The security of the communications over Internet is considered an essential feature. To guarantee secure operation the aid of some user authentication infrastructure is needed. This paper introduces a Public Key Infrastructure (PKI) and user identification scheme to be used in extranet applications. The flexibility of the system allows it to fit the usual hierarchical organization structure.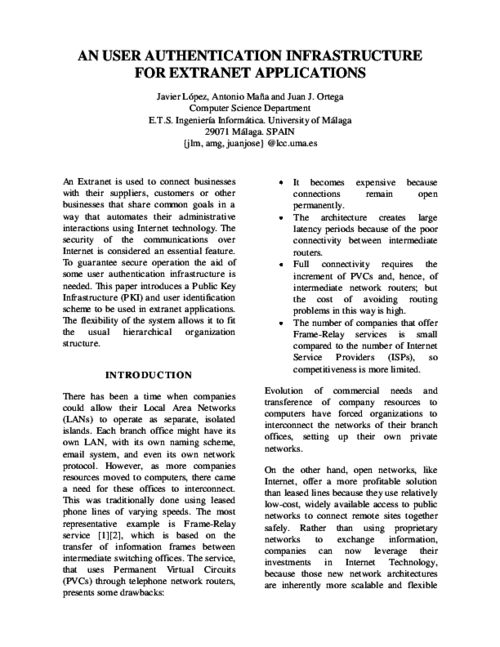 JavierLopez1999b.pdf (156.72 KB)
"Una Solución Integral para la Autenticación de Usuarios y la Administración de Claves en Internet",
Novática
, vol. 134, pp. 20-26, 1998.


More..
Abstract
La seguridad es uno de los aspectos más conflictivos del uso de Internet. La falta de una política de seguridad global está frenando el desarrollo de Internet en áreas tan interesantes y prometedoras como el comercio electrónico o la interacción con las administraciones públicas. Las técnicas criptográficas actuales proporcionan un alto grado de confidencialidad; no obstante, es difícil garantizar la identificación segura de los usuarios y, además, la gestión de las claves de los mismos es poco eficiente y presenta graves problemas de escalabilidad y seguridad. En este trabajo se describe una solución a ambos problemas basada en una Infraestructura de Clave Pública que proporciona una administración simple y eficiente de las claves de los usuarios y posibilita la autenticación segura de los mismos. El sistema se ha probado con éxito de forma local y, en breve, será instalado para su prueba por parte de la comunidad de usuarios de RedIris.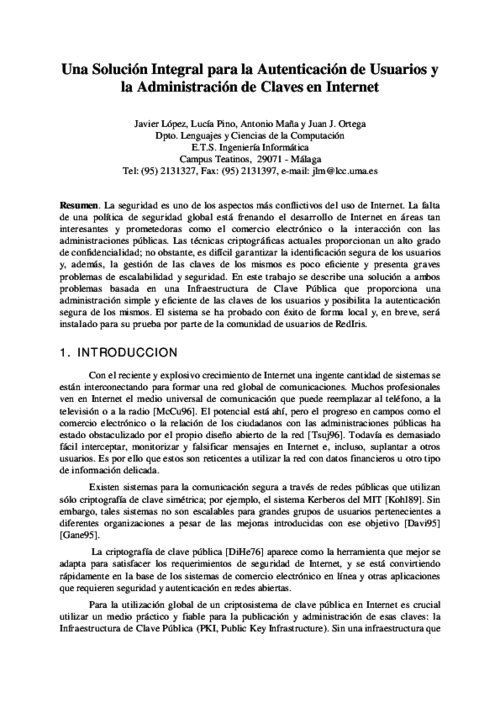 JavierLopez1998.pdf (174.34 KB)
Modify
or
remove
your filters and try again.