Export results:
Author
Title
[
Type

]
Year
Conference Paper
"A Task Ordering Approach for Automatic Trust Establishment",
Proceedings of the 2012 International Symposium on Engineering Secure Software and Systems (ESSoS 2012)
, G. Barthe, B. Livshits, and R. Scandariato Eds., LNCS 7159, Springer, pp. 76–89, Feb 2012.
DOI


More..
Abstract
Trust has become essential in computer science as a way of assisting the process of decision-making, such as access control. In any system, several tasks may be performed, and each of these tasks might pose different associated trust values between the entities of the system. For instance, in a file system, reading and overwriting a file are two tasks that pose different trust values between the users who can carry out these tasks. In this paper, we propose a simple model for automatically establishing trust relationships between entities considering an established order among tasks.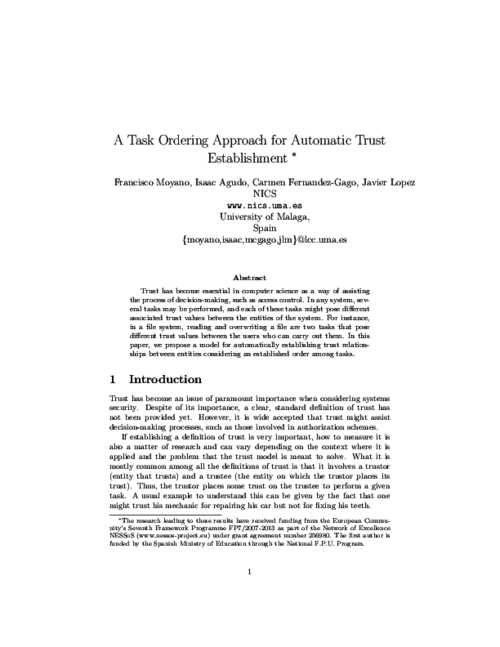 Moyano_ESSoS12.pdf (526.84 KB)
"A Technique for Enhanced Provision of Appropriate Access to Evidence across Service Provision Chains",
10th International IFIP Summer School on Privacy and Identity Management
, pp. 187-204, 2016.
DOI


More..
Abstract
Transparency and verifiability are necessary aspects of accountability, but care needs to be taken that auditing is done in a privacy friendly way. There are situations where it would be useful for certain actors to be able to make restricted views within service provision chains on accountability evidence, including logs, available to other actors with specific governance roles. For example, a data subject or a Data Protection Authority (DPA) might want to authorize an accountability agent to act on their behalf, and be given access to certain logs in a way that does not compromise the privacy of other actors or the security of involved data processors. In this paper two cryptographic-based techniques that may address this issue are proposed and assessed.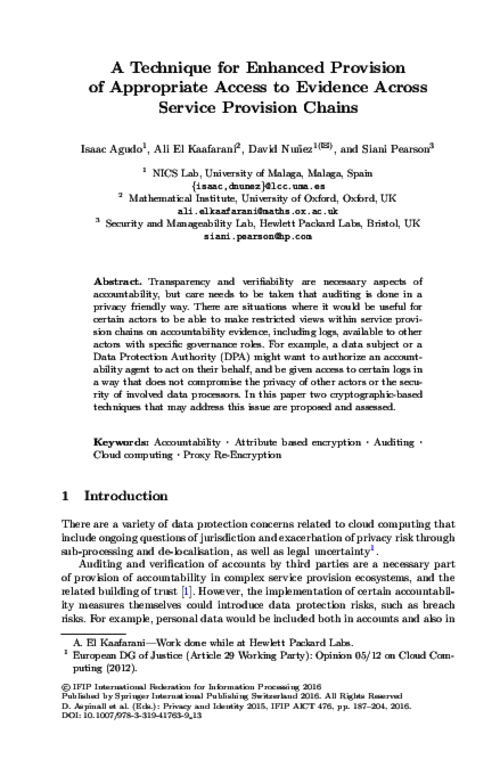 agudo2016technique.pdf (1.19 MB)
"Towards Trust-Aware and Self-Adaptive Systems",
7th IFIP WG 11.11 International Conference on Trust Management (IFIPTM 2013)
,
C. Fernandez-Gago
,
I. Agudo
, F. Martinelli, and S. Pearson Eds., AICT 401, Springer, pp. 255-262, Jun 2013.
DOI


More..
Abstract
The Future Internet (FI) comprises scenarios where many heterogeneous and dynamic entities must interact to provide services (e.g., sensors, mobile devices and information systems in smart city scenarios). The dynamic conditions under which FI applications must execute call for self-adaptive software to cope with unforeseeable changes in the application environment. Software engineering currently provides frameworks to develop reasoning engines that automatically take reconfiguration decisions and that support the runtime adaptation of distributed, heterogeneous applications. However, these frameworks have very limited support to address security concerns of these application, hindering their usage for FI scenarios. We address this challenge by enhancing self-adaptive systems with the concepts of trust and reputation. Trust will improve decision-making processes under risk and uncertainty, in turn improving security of self-adaptive FI applications. This paper presents an approach that includes a trust and reputation framework into a platform for adaptive, distributed component-based systems, thus providing software components with new abilities to include trust in their reasoning process.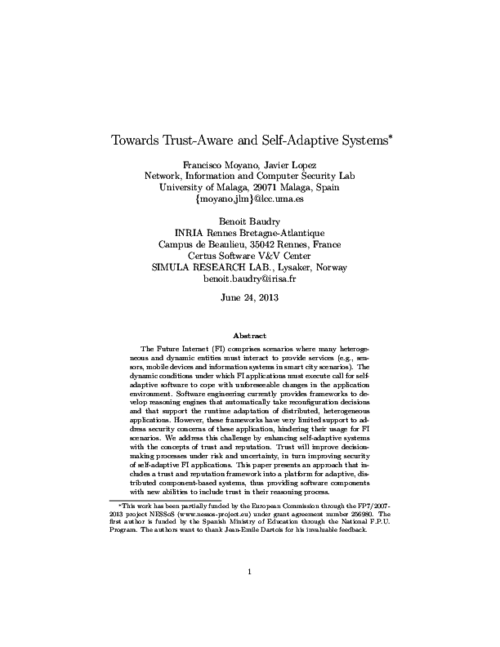 moyano2013ifiptm.pdf (585.82 KB)
Journal Article
"Trust Management Systems for Wireless Sensor Networks: Best practices",
Computer Communications
, vol. 33, no. 9, Elsevier, pp. 0140-3664, 2010.
DOI


(I.F.: 0.816)
More..
Abstract
Wireless sensor networks (WSNs) have been proven a useful technology for perceiving information about the physical world and as a consequence has been used in many applications such as measurement of temperature, radiation, flow of liquids, etc. The nature of this kind of technology, and also their vulnerabilities to attacks make the security tools required for them to be considered in a special way. The decision making in a WSN is essential for carrying out certain tasks as it aids sensors establish collaborations. In order to assist this process, trust management systems could play a relevant role. In this paper, we list the best practices that we consider are essential for developing a good trust management system for WSN and make an analysis of the state of the art related to these practices.
Journal Citation Reports® Science Edition (Thomson Reuters, 2010)
---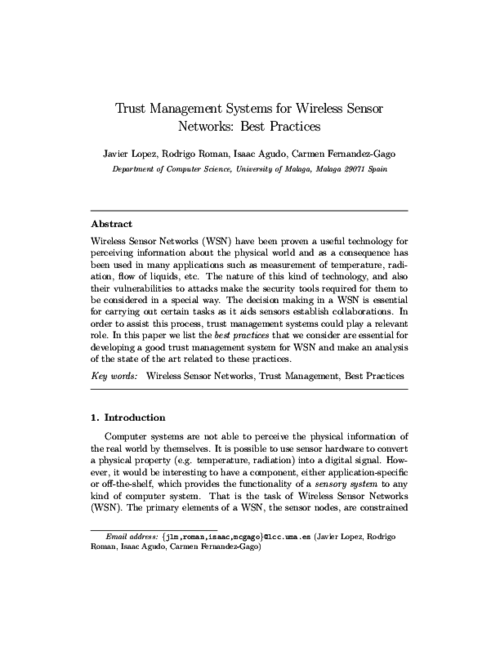 JavierLopezMunoz2010.pdf (210.98 KB)