Export results:
Author
Title
[
Type

]
Year
Journal Article
"Gestión segura de redes SCADA",
Nuevas tendencias en gestión de redes, Novática
, no. 196, CEPIS, pp. 20-25, December, 2008.


More..
Abstract
En el momento que se introduce en el mercado nuevas tecnologías basadas en entornos distribuidos comienzan a surgir en paralelo nuevos problemas de seguridad en los sistemas SCADA (Supervisory Control and Data Acquisition), los cuales monitorizan y gestionan otras infraestructuras de gran complejidad y escala. Un fallo o una interrupción en uno de sus componentes podría suponer un impacto negativo sobre la funcionalidad de otras infraestructuras, por lo que se hace necesario realizar frecuentes análisis de seguridad para así mantener actualizado el conocimiento y proveer recomendaciones y/o soluciones para mitigar o evitar futuras ocurrencias, garantizando una gestión de red fiable y siempre disponible.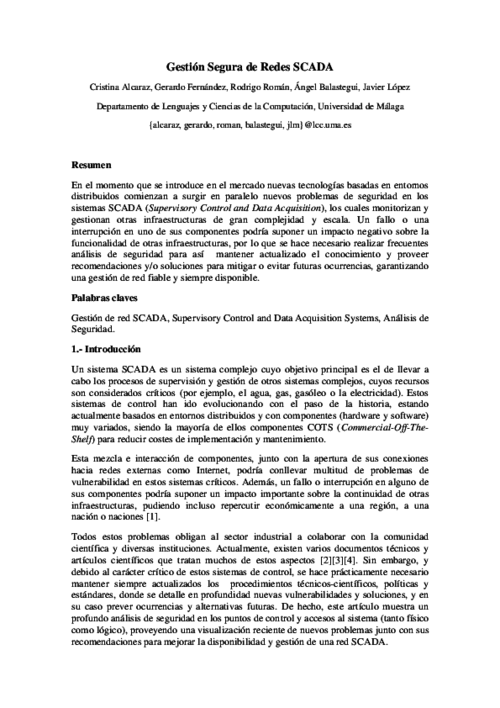 Alcaraz2008a.pdf (329.92 KB)
Conference Paper
"Game Theory-Based Approach for Defense against APTs",
18th International Conference on Applied Cryptography and Network Security (ACNS'20)
, vol. 12147, Springer, pp. 297-320, 10/2020.
DOI


More..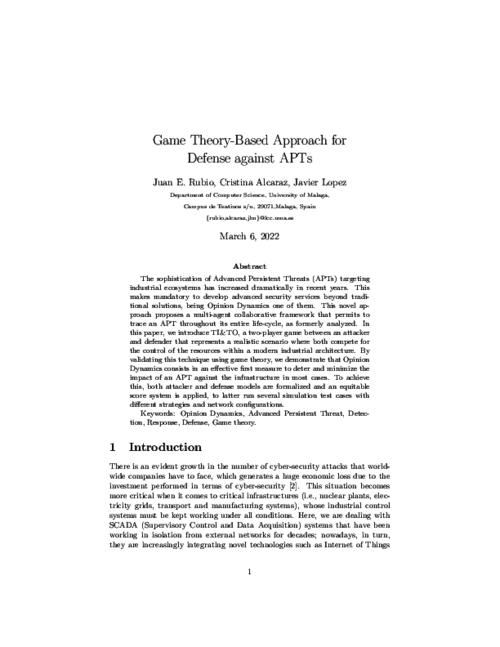 1840.pdf (1.48 MB)