Export results:
Author
Title
Type
[
Year

]
"Distributed Detection of APTs: Consensus vs. Clustering",
25th European Symposium on Research in Computer Security (ESORICS 2020)
, vol. 12308, pp. 174-192, 09/2020.
DOI


More..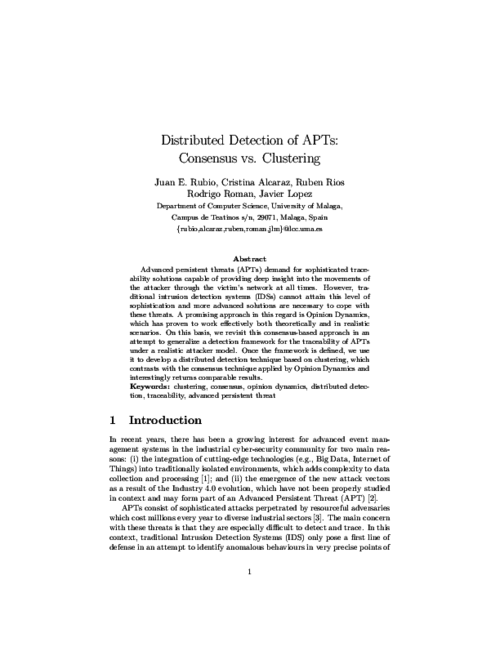 1846.pdf (1.07 MB)
"Digital Witness: Digital Evidence Management Framework for the Internet of Things",
ERCIM News
, no. 106, ERCIM EEIG, pp. 9-9, 07/2016.

"Digital Witness: Safeguarding Digital Evidence by using Secure Architectures in Personal Devices",
IEEE Network
, IEEE Communications Society, pp. 12-19, 2016.
DOI


(I.F.: 7.230)
More..
Abstract
Personal devices contain electronic evidence associated with the behaviour of their owners and other devices in their environment, which can help clarify the facts of a cyber-crime scene. These devices are usually analysed as containers of proof. However, it is possible to harness the boom of personal devices to define the concept of digital witnesses, where personal devices are able to actively acquire, store, and transmit digital evidence to an authorised entity, reliably and securely. This article introduces this novel concept, providing a preliminary analysis on the management of digital evidence and the technologies that can be used to implement it with security guarantees in IoT environments. Moreover, the basic building blocks of a digital witness are defined.
Journal Citation Reports® Science Edition (Thomson Reuters, 2016)
---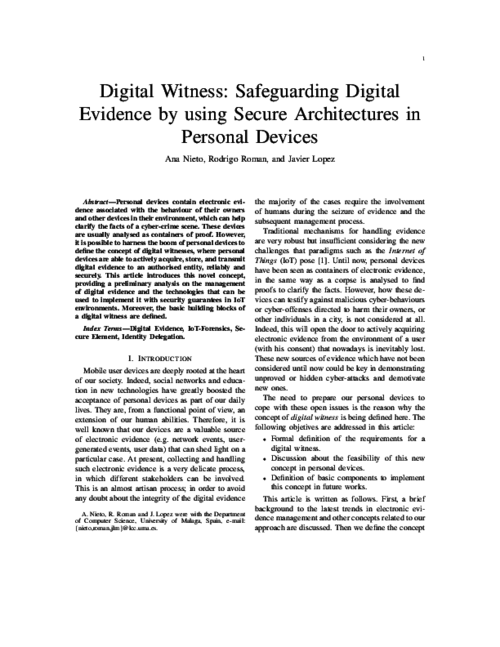 ieeenet16-nrl.pdf (1002.02 KB)
"Digital Home Networking: Standards",
Digital Home Networking
, R. Carbou, E. Exposito,
R. Roman
, and M. Diaz Eds., no. 7130, John Wiley & Sons Inc., pp. 60-96, 2011.

"Digital Home Networking: Standards",
Digital Home Networking
, R. Carbou, E. Exposito,
R. Roman
, and M. Diaz Eds., no. 7130, John Wiley & Sons Inc., pp. 60-96, 2011.

"Do Wireless Sensor Networks Need to be Completely Integrated into the Internet?",
3rd CompanionAble Workshop - Future Internet of People, Things and Services (IoPTS) eco-Systems
, xxxx, pp. xxxx, December, 2009.


More..
Abstract
Wireless sensor networks are considered as an integral part of the Internet of Things paradigm. Not only they provide a virtual presence to elements of the real world, but also allow any computationalsystem to know about the physical state of those elements thanks to the use of embedded sensors. In order to belong to the Internet of Things, the elements of a sensor network can implement Internet protocols and services such as the TCP/IP stack and web services. Still, a question that must be raised at this point of time is whether all sensor network applications should be completely integrated into the Internet or not. The purpose of this paper is to analyze this question, reviewing the challenges and security requirements of Internet-enabled sensor networks.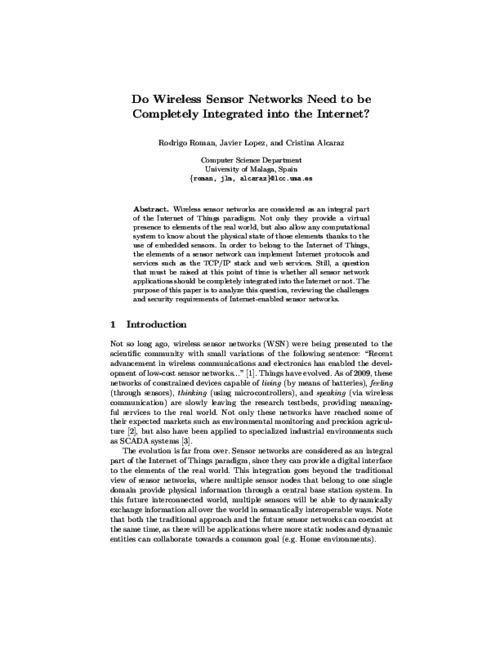 roman2009.pdf (106.88 KB)
"Design of a VPN Software Solution Integrating TCP and UDP Services",
International Conference on Infrastructure Security (InfraSec'02)
, LNCS 2437, Springer-Verlag, pp. 325-337, October, 2002.


More..
Abstract
The main aims of Virtual Private Network (VPN) are to isolate a distributed network from outsiders, as well as to protect the confidentiality and integrity of sensitive information traversing a non-trusted network such as the Internet. However, some problems arise when security is considered as the unique problem because VPN users suffer from restrictions in their access to the network. They are not free to use traditional Internet services such as electronic mail exchange with non-VPN users, and to access Web and FTP servers external to the organization. This paper presents a new solution that allows the open use of traditional network services running over TCP and UDP layers, while maintaining strong security features. The new scheme works at the TCP/IP transport layer and does not require the addition of new hardware because it is a totally software solution. As a consequence, the application is totally portable. Moreover, and because of its implementation at the transport layer, there is no need to modify any traditional communication applications previously installed in the network system.
JavierLopez2002c.pdf (126.07 KB)
Modify
or
remove
your filters and try again.