Export results:
Author
Title
Type
[
Year

]
"Attribute delegation in ubiquitous environments",
3rd international conference on Mobile multimedia communications (MobiMedia '07)
, ICST, pp. 43:1–43:6, 2007.


More..
Abstract
When delegation is implemented using the attribute certificates in a Privilege Management Infrastructure (PMI), this one reaches a considerable level of distributed functionality. However, the approach is not flexible enough for the requirements of ubiquitous environments. Additionally, the PMI can become a too complex solution for devices such as smartphones and PDAs, where resources are limited. In this work, we solve the previous limitations by defining a second class of attributes, called domain attributes, which are managed directly by users and are not right under the scope of the PMI, thus providing a light solution for constrained devices. The two classes of attributes are related by defining a simple ontology. We also introduce in the paper the concept of Attribute Federation which is responsible for supporting domain attributes and the corresponding ontology.
Agudo2007a.pdf (903.72 KB)
"Attributes Delegation Based on Ontologies and Context Information",
10th IFIP TC-6 TC-11 International Conference on Communications and Multimedia on Security (CMS'06)
, LNCS 4237, Springer, pp. 54-66, October, 2006.
DOI


More..
Abstract
This paper presents a model for delegation based on partial orders, proposing the subclass relation in OWL as a way to represent the partial orders. Delegation and authorization decisions are made based on the context. In order to interact with the context, we define the Type of a credential as a way to introduce extra information regarding context constraints. When reasoning about delegation and authorization relationships, our model benefits from partial orders, defining them over entities, attributes and the credential type. Using these partial orders, the number of credentials required is reduced. It also classifies the possible criteria for making authorization decisions based on the context, in relation to the necessary information.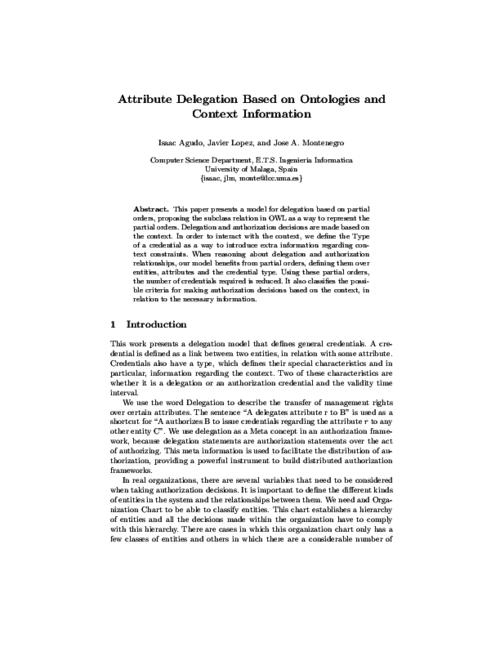 IsaacAgudo2006.pdf (165.46 KB)
"Análisis, Diseño e Implementación de un Entorno Escalable de Comercio-e con Seguridad Telemática Adaptable Basada en PKI",
I Simposio Español de Comercio Electrónico (SEC'01)
, pp. 145-160, Octubre, 2001.

More..
Abstract
La presente ponencia aborda el desarrollo de un entorno seguro escalable para el Comercio Electrónico. Se ha tratado la cuestión en dos fases: primero, idear un prototipo generalizado distribuido seguro formado por diferentes entidades genéricas con el objetivo de permitir que los clientes realicen sus compras y transacciones bancarias con un nivel de seguridad escalable; y en segundo lugar, implantar en la práctica un prototipo de grado de escalabilidad reducido como modelo empírico.
"Aspectos de Implementación de una Infraestructura de Clave Pública Distribuida",
Simposio Español de Informática Distribuida (SEID'00)
, pp. 313-320, Septiembre, 2000.


More..
Abstract
La seguridad es uno de los aspectos más conflictivos del uso de Internet. La falta de una política de seguridad global está frenando el desarrollo de Internet en áreas tan interesantes y prometedoras como el comercio electrónico o la interacción con las administraciones públicas. Las técnicas criptográficas actuales proporcionan un alto grado de confidencialidad; no obstante, es difícil garantizar la identificación segura de los usuarios y, además, la gestión de las claves de los mismos es poco eficiente y presenta graves problemas de escalabilidad. Este trabajo describe las características de implementación de una solución a ambos problemas basada en una Infraestructura de Clave Pública (PKI) que proporciona una administración simple y eficiente de las claves de los usuarios y posibilita la autenticación segura de los mismos.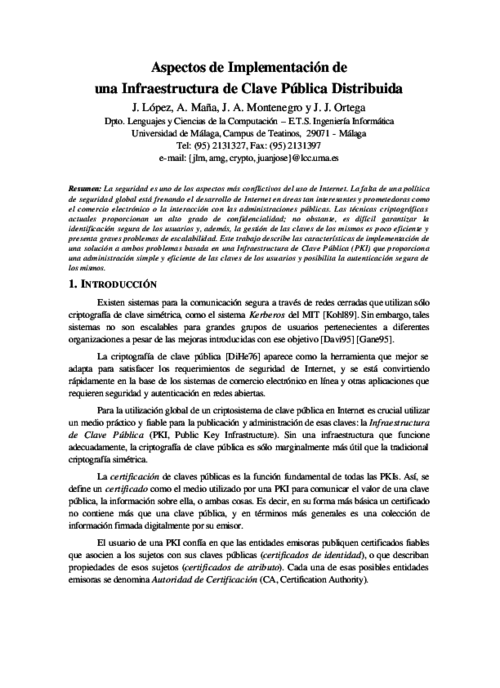 JavierLopez2000.pdf (222.46 KB)
Modify
or
remove
your filters and try again.