Export results:
Author
Title
Type
[
Year

]
Filters: Keyword
is
Critical Information Infrastructure Protection
and
Author
is
Cristina Alcaraz
[Clear All Filters]
"Security Aspects of SCADA and DCS Environments",
Critical Infrastructure Protection: Information Infrastructure Models, Analysis, and Defense
,
J. Lopez
, S.. Wolthunsen, and R. Setola Eds., Advances in Critical Infrastructure Protection: Information Infrastructure Models, Analysis, and Defense. LNCS 7130. 7130, Springer-Verlag, pp. 120-149, September 2012.


More..
Abstract
SCADA Systems can be seen as a fundamental component in Critical Infrastructures, having an impact in the overall performance of other Critical Infrastructures interconnected. Currently, these systems include in their network designs different types of Information and Communication Technology systems (such as the Internet and wireless technologies), not only to modernize operational processes but also to ensure automation and real-time control. Nonetheless, the use of these new technologies will bring new security challenges, which will have a significant impact on both the business process and home users. Therefore, the main purpose of this Chapter is to address these issues and to analyze the interdependencies of Process Control Systems with ICT systems, to discuss some security aspects and to offer some possible solutions and recommendations.
BC2011Alcaraz.pdf (683.38 KB)
"On the Protection and Technologies of Critical Information Infrastructures.",
On Foundations of Security Analysis and Design IV, FOSAD 2006/2007, Springer
, LNCS 4677, pp. 160-182, 2007.
DOI


More..
Abstract
Critical Infrastructures are complex and highly interconnected systems that are crucial for the well-being of the society. Any type of failure can cause significant damage, affecting one or more sectors due to their inherent interdependency. Not only the infrastructures are critical, but also the information infrastructures that manage, control and supervise them. Due to the seriousness of the consequences, the protection of these critical (information) infrastructures must have the highest priority. It is the purpose of this book chapter to review and discuss about these infrastructures, to explain their elements, and to highlight their research and development issues. This chapter will also discuss the role of Wireless Sensor Network (WSN) technology in the protection of these infrastructures.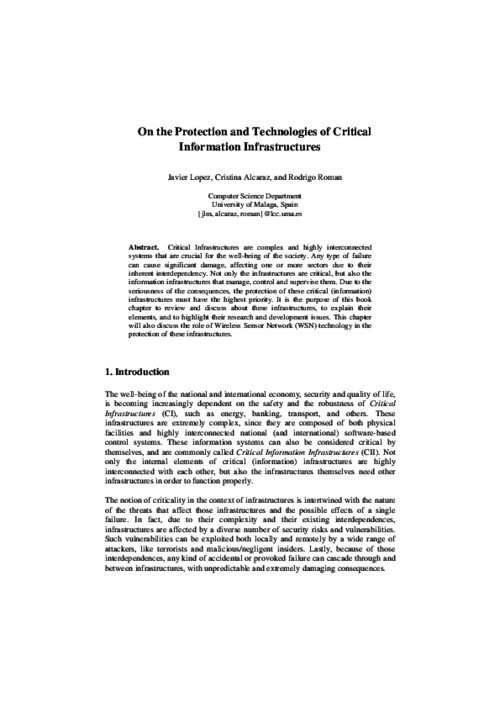 Lopez2007.pdf (156.78 KB)
"The Role of Wireless Sensor Networks in the Area of Critical Information Infrastructure",
Information Security Technical Report
, vol. 12, no. 1, Elsevier, pp. 24-31, 2007.
DOI


More..
Abstract
Critical Infrastructures, such as energy, banking, and transport, are an essential pillar to the well-being of the national and international economy, security and quality of life. These infrastructures are dependent on a spectrum of highly interconnected information infrastructures for their smooth, reliable and continuous operation. The field of protecting such Critical Information Infrastructures, or CIIP, faces numerous challenges, such as managing the secure interaction between peers, assuring the resilience and robustness of the overall system, and deploying warning and alert systems, amongst others. In this tapestry of CIIP, Wireless Sensor Networks can be used as an invaluable tool due to their intelligent distributed control capabilities, alongside with their capability to work under severe conditions. In this paper, we justify why Wireless Sensor Networks technology is suitable for providing security for these scenarios, describing both their advantages and research issues and their role in the overall scheme of protecting the Critical Information Infrastructures.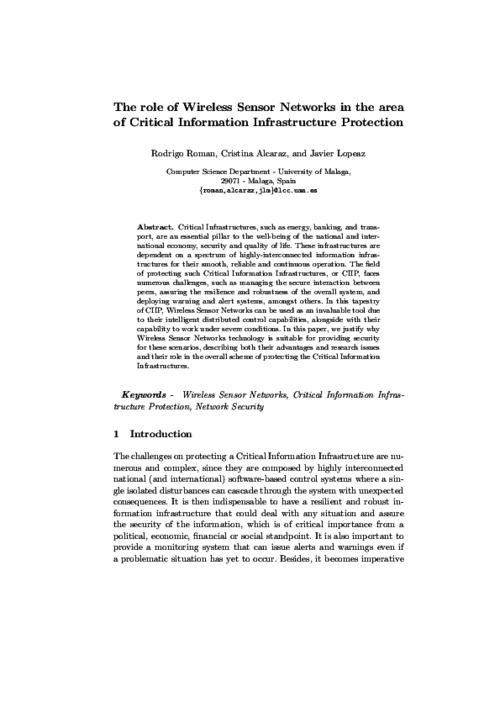 Roman2007a.pdf (183.54 KB)
Modify
or
remove
your filters and try again.